St Valentine's Day Concert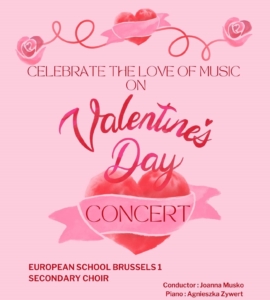 On Tuesday 14 February, the European School Brussels 1 Secondary Choir under the direction of Joanna Musko and accompanied by Agnieszka Zywert, performed a Valentine's Day Concert for the school community.
Soon, in March this year, the young artists will represent Belgium, and our school in particular, at the International Festival of Choirs and Orchestras in Rome. They presented the programme they will perform in Italy – sacred and secular pieces composed in the 16th, 19th and 20th centuries, sung in Latin, Old Slavonic, Norwegian, Ukrainian, Slovenian, Polish and English.
The choir was very warmly received by the audience – students, teachers and the Management of the Secondary and Primary School.