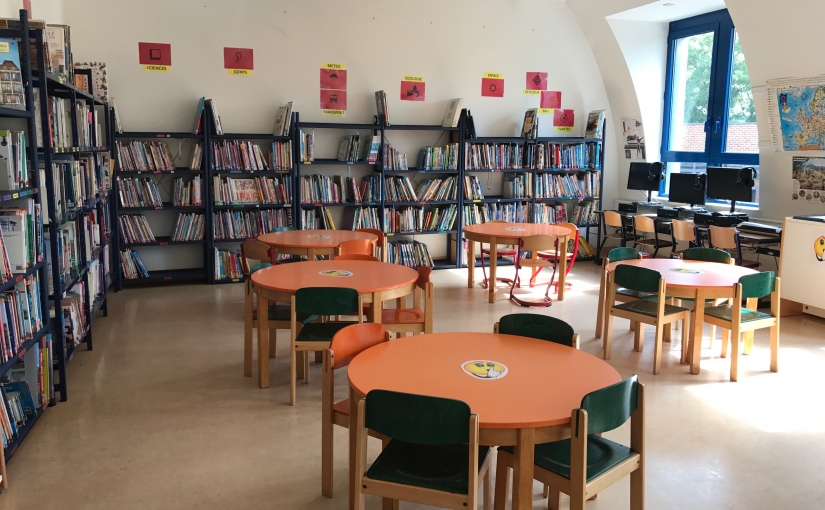 Andersen library
Since September 2016 the school has had two libraries for primary and nursery levels:
the library for classes P2 to P5, located on the second floor of the Erasmus building, and
the library for nursery and P1, located on the mezzanine floor of the Fabiola building.
Séverine Paccaud Lefébure and her team of parent volunteers are on hand from Monday to Friday to help and advise children from the nursery and primary classes
who come to the library with their teachers during class time, or
who come with the monitors during lunch break − from 12:00 to 12:30 for P2 and P3 classes, and from 12:30 to 13:00 for P3, P4 and P5 (only the Erasmus library).
What resources does the library offer?
Almost 20 000 items in Bulgarian, Danish , English, French, German, Hungarian, Irish, Italian, Maltese, Polish, Romanian, Slovenian and Spanish, colour-coded by language,
which include:
fiction for children aged 4 to 12
non-fiction books on geography, history, science, technology, nature, the human body, space, sport, religion, art and music
magazines and periodicals
CDs and DVDs
What can you do in the library?
Read books or look for information
Borrow a maximum of two books for a period of two weeks. Any lost books must be replaced.
Listen to audio recordings
Prepare presentations or reports
The school is very grateful to the parent volunteers who contribute to the smooth running of the libraries!