Finding the harmony – the EEB1 Secondary Choir at the Rome Music Festival
March 9-12, 2023
"Exceeded my expectations" "You sang like a professional choir" "This was an amazing trip" – three comments that captured the sentiment shared by the eight teachers and 64 students who made a musical pilgrimage to the 'eternal city' this March.
Three 'official' concerts were staged. At the top of the famous Spanish Steps sits the Instituto Sacro Cuore – Trinita dei Monti – a church with exquisite acoustics – and after an hour's rehearsal and a packed hour-long concert, the standing ovation reflected the new level of harmony finding expression in the choir. The two additional concerts were performed in the presence of other participating choirs, from Estonia, the UK, Greece and Turkey, adding useful insights and learning into other musical traditions, styles and ways of presenting.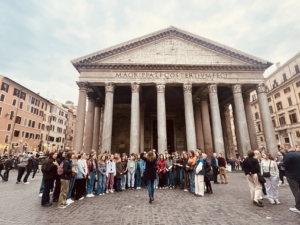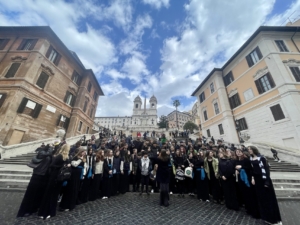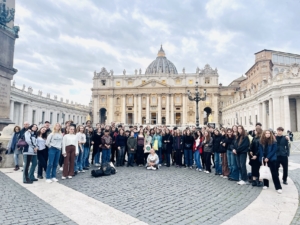 What endeared our choir to the people of Rome (and its visitors) was also the four impromptu 'concerts' led by Joanna Musko, our choir director. Firstly, before the pillars of the extraordinary Pantheon, secondly at the foot of the Spanish Steps, thirdly in a modern, improbably-hexagonal, church dedicated to St Polycarp, close to the Aqueduct constructed by Emperor Claudius. Finally, we sang at the centre of St Peter's Square (a vast circle, in fact) to generous applause from the numerous other pilgrims and sightseers.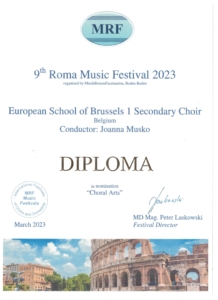 This was the creation of a lifelong memory for all of us participants. Our thanks goes especially to Mina Farris (and a significant group of ex-EEB1 teachers in Italy who joined us) who enabled us to have such a rich cultural encounter with the city. Our appreciation for leading us to a whole new level of choral expression goes, of course, to Joanna Musko, our Director, and with her, Agnieszka Zywert, our accompanist.
You can hear our Rome répertoire on April 22nd at 19.00 at Église Notre-Dame de la Chapelle in Brussels (Admission free).